Regular price
$2,884.00 USD
Regular price
Sale price
$2,884.00 USD
Unit price
per
Sale
Contact Us for Info
Customers outside Australia are liable for import fees which can add 15% for EU and UK shipments (compared to Australian RRP).
Share
Size Guide

Take a look at our geometry page for all our frames to see what size will be best for you.
Shipping

Free International Shipping for all Framesets, Complete Bikes, Forks, Wheelsets, Bars and Rocket Pooches is included in the sales price (*excludes Belgie DISC Ultegra)




All other products are subject to shipping charges calculated at checkout. See our Shipping Policy for further details.
FAQs

Is the frame compatible with SRAM T-Type (Transmission) derailleurs?

The short answer is yes, but some chainring sizes may not be suitable for some frame sizes.

Please refer to this chart. 

The longer answer and a bit of background as to why this chart is needed:

When the Big Kev frame was developed, the T-type (Transmission) system had not yet been announced by SRAM, and the dropouts were designed to work with the UDH hanger while maintaining our regular "hooded" dropout design. When we learned about the T-type development, the Big Kev was already in production and it was too late to make any changes.

The T-type spec prescribes that a certain amount of clearance is needed for the derailleur's "full mount" bracket to be able to swing forward in order to accommodate a range of chainstay/chainring/chain length combinations. This forward swing may be impeded by the outside hood of the dropout on some frame size/chainring combinations on the Big Kev - so we made this chart to help identify the combinations where interference may be possible and extra diligence is needed during setup.
Welcome Big Kev to the Curve Family
Big Kev is the progressive gravel bike you have been waiting for. Curve was one of the first brands to bring gravel bikes to the market. Now, it's time for gravel-plus.
Designed as the new benchmark for adventure cycling, Big Kev features wide 29-inch tyre clearance giving you the comfort and confidence for weekend gravel missions or the reliability and speed to tackle bucket-list bikepacking adventures like the Tour Divide.
It's Time for Gravel-Plus
A larger diameter means more comfort on rough terrain. With Big Kev, we have committed to the 29-inch wheel platform. With the new Ride 415 carbon fork, Big Kev is optimised for 2.1" tyres*, with a maximum width of 2.35" on the rear** and even wider, up to 2.4", on the front for extra control.

For less rugged missions or extra speed on fast gravel tours, you can slim down to 2.0" tyres for faster rolling. Gravel-plus means you can take on more than just pristine gravel roads. Big Kev gives you the flexibility to get more adventurous.

* Tested with a Vittoria Mezcal 29 x 2.1" tyre on a 25mm internal width rim.
** Size SM and up. Tested with a Vittoria Mezcal 29 x 2.35" tyre on a 25mm internal width rim. This is the maximum we have tested. Be warned - mud clearance is extremely limited with such a wide tyre choice.
Light, Strong, Durable
With a carefully selected, and delicately shaped titanium tube set, Big Kev is built to last. We've proven this with industry-standard MTB-level testing, even with the lightness of titanium.
The detailing on Big Kev takes Curve bikes to the next level. A custom yoke, with asymmetrical chainstays and dropouts, allows super wide tyre clearance with a road Q-factor. This exquisite yet complex rear-end, tied together with an 85.5mm bottom bracket shell, provides a sturdy platform under load. The dropouts are the first in the Curve range built around the SRAM Universal Derailleur Hanger (UDH).
Adventure Ready
Let's face it, to tackle the biggest bikepacking adventures with confidence, you need a bigger tyre. A narrow gravel tyre won't cut it – no one wants to slash a sidewall on day one or walk a bike up a rocky climb due to lack of traction. Big Kev gives you all the benefits of a drop bar, but with the comfort and traction of a gravel-plus tyre.
Whether it's single-day gravel missions, multi-day flashpacking, or racing the Tour Divide, Big Kev is ready for what you have planned.
More Storage. More Mounts. More Groupset Options
Big Kev is built with a large main triangle compared to other 29err formats to accommodate full-size frame bags for extra storage, even on smaller sizes. With three bidon mounts, rear rack and fender mounts, and 1x groupset options (boost cranks are not required), Big Kev has a variety of riding styles covered.
Our Ride 415 fork has offset adjustability to fine-tune your ride. In addition, the 4 x M5 mounts on each leg allow you to carry Rocket Pooches, extra bottles or fork-specific bags.
Frame:
Curve Titanium Big Kev

Fork:
Curve Ride 415 Carbon Fork
Steerer expander plug
Race Ride Seek stem cap
Headset:

Curve Integrated 42/52 mm semi-internal

Seat clamp:

Curve alloy 31.8 mm

Axles:

Relaxle 12 x 142 mm (rear) & 12 x 100 mm (front)


View full details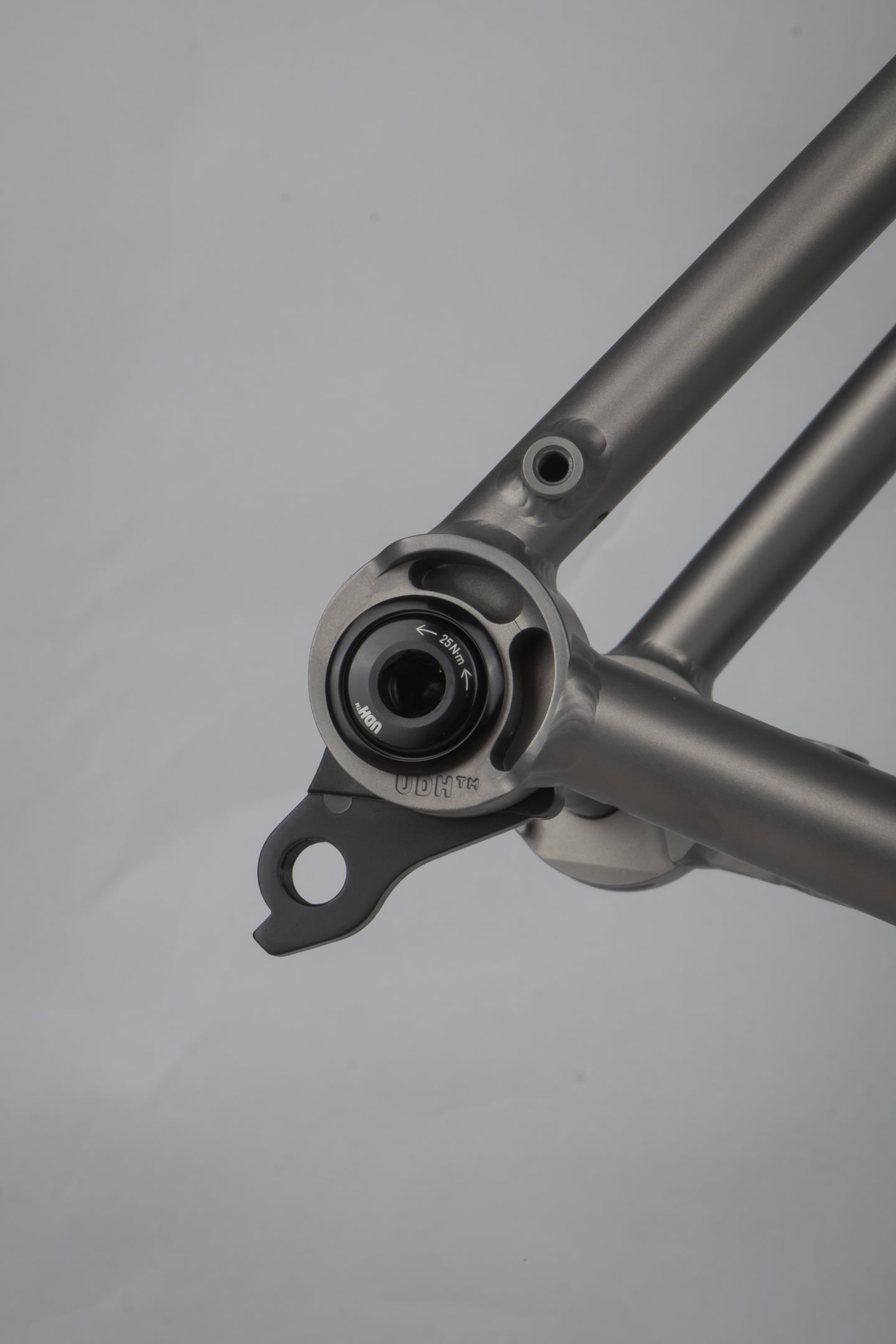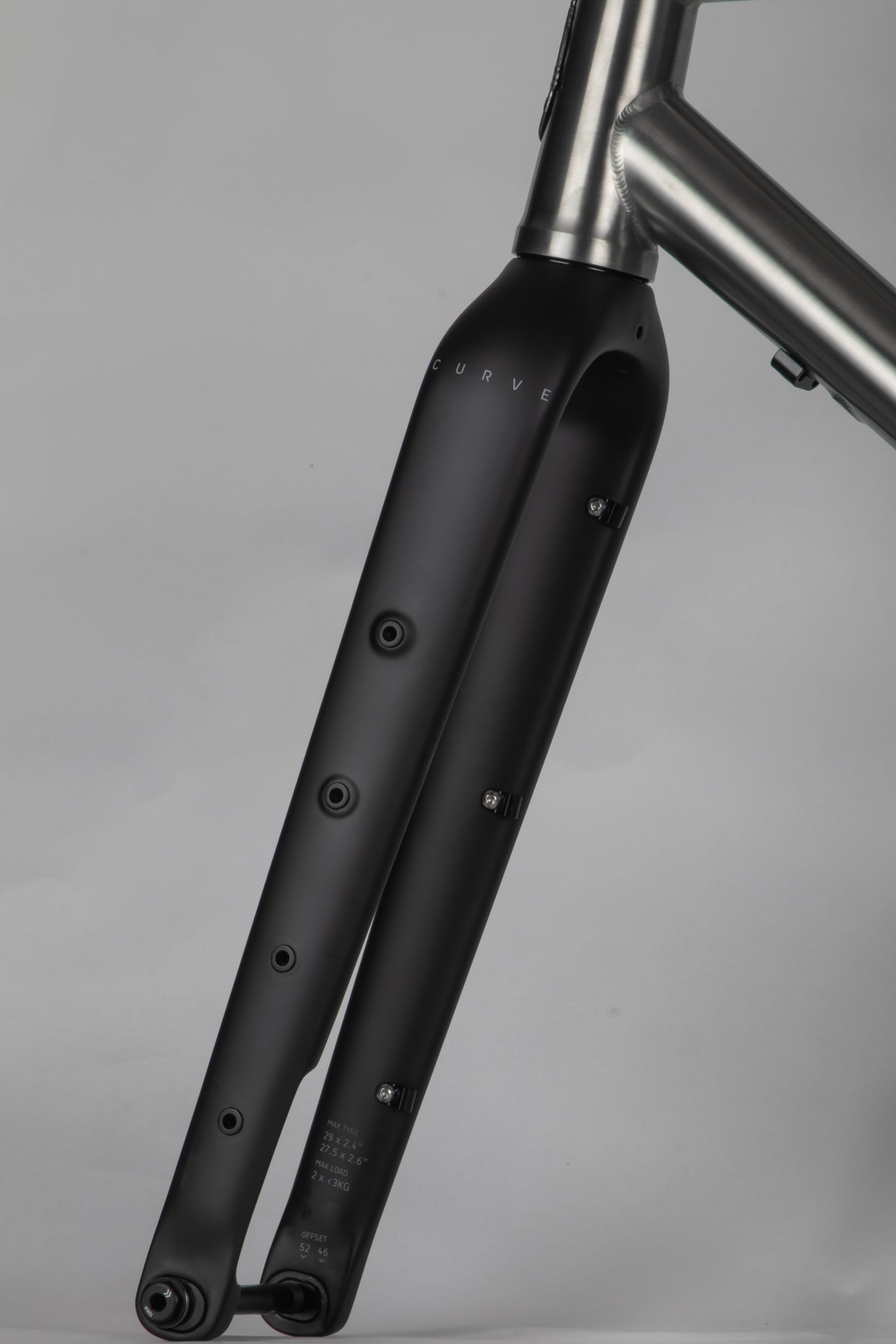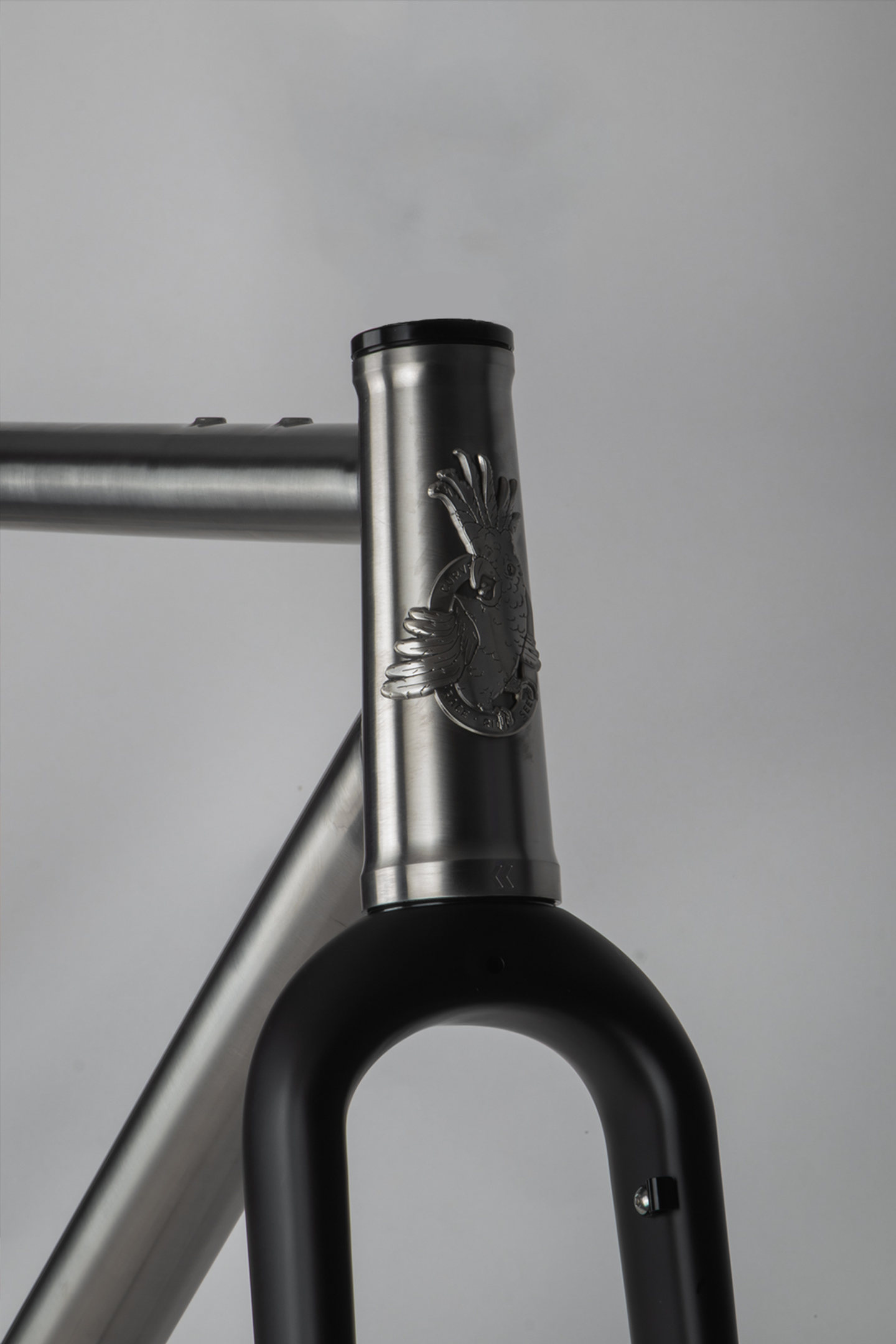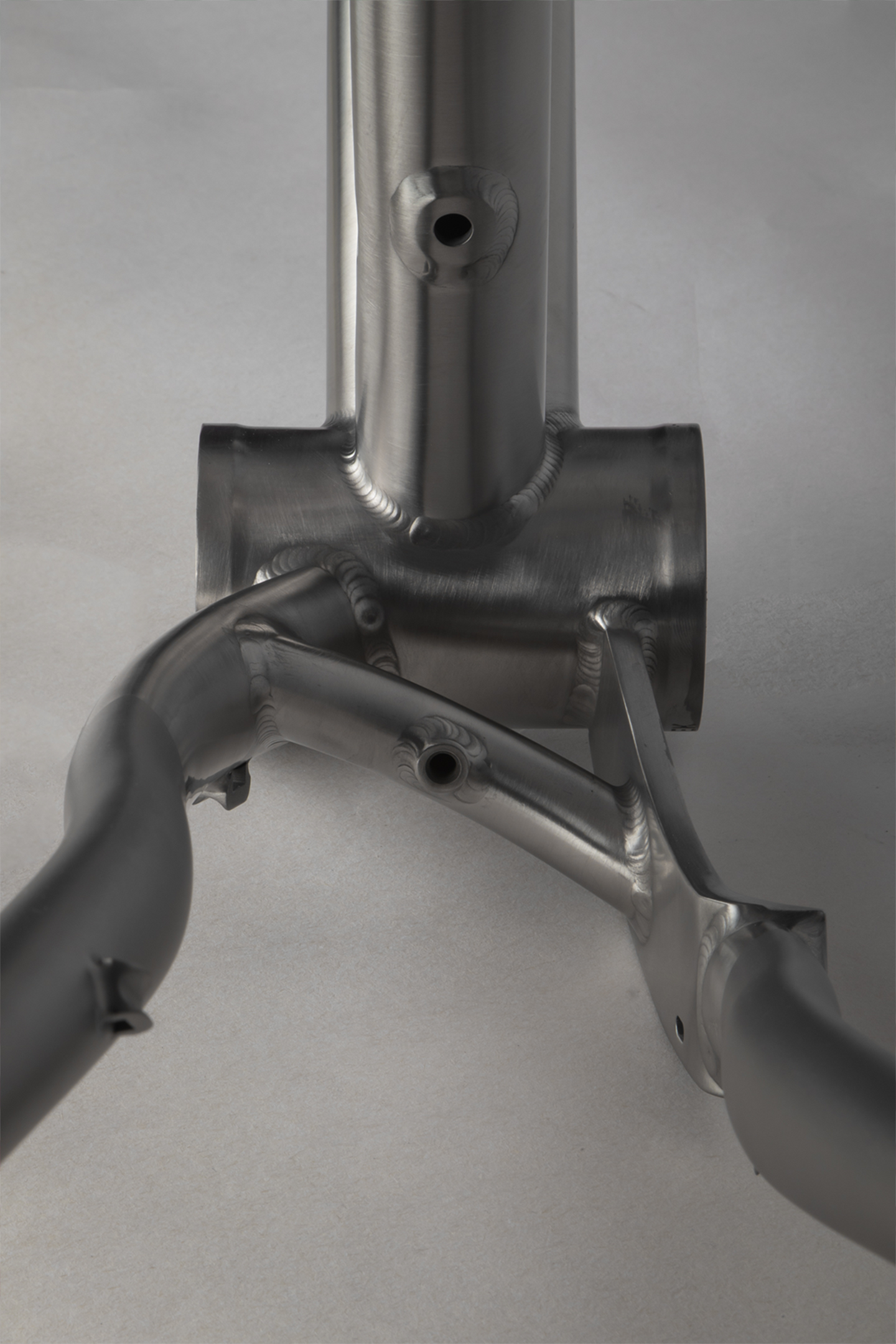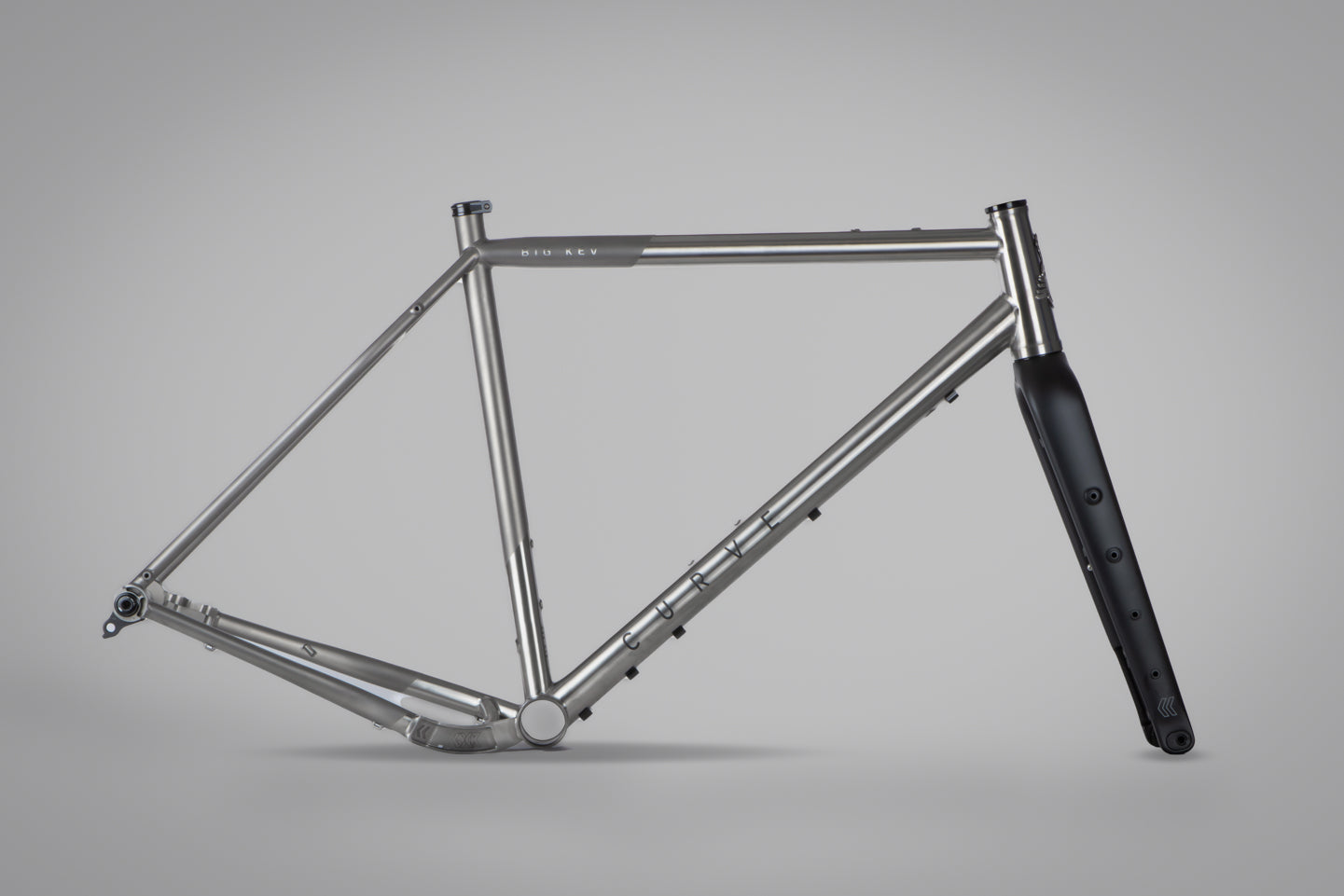 If you are building your Curve frameset with a self-supplied groupset, please see the specification guide below to ensure the necessary parts are sufficiently compatible with our framesets.
The specification details may change over time. Please check HERE for the latest version.