Bike Servicing from Curve
Keeping your bike running smooth, silent and trouble free is part of our ongoing local support to the riding community in Australia. We continually update our workshop tools and facilities, plus have expanded our team to ensure we can offer the best possible care for your bike.
Whether it's your Sunday road racer, gravel grinder or MTB trail bike, our workshop is now open to all bikes, regardless of the brand, for servicing and repairs. From regular check-ups to pre-adventure overhauls, we can undertake maintenance work on the majority of bikes in-house, with the exception of welding/carbon repairs, resprays, some suspension products* and some quality exclusions. The latter can be coordinated with our partners accordingly.
So if you're in need of some TLC for your bike, get in contact with our workshop team via the booking form below or give us a call! Be sure to mention the bike model/part name when getting in contact so that we can best help with your service.
*Please contact the workshop directly before booking to ensure servicing is viable.
Our Service Packages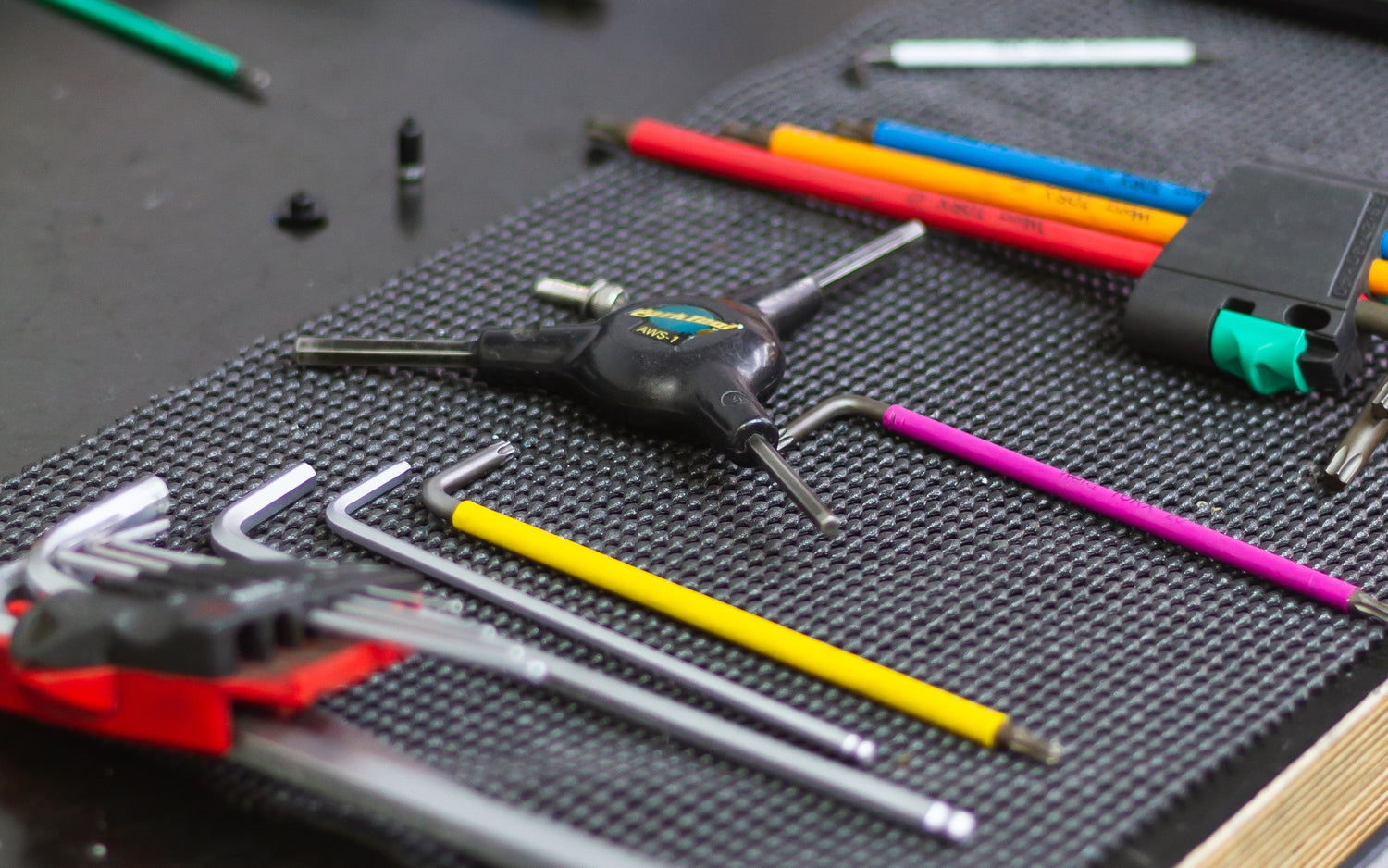 Day Tripper

$130 + parts:

If you ride your bike regularly and want it performing its best, then we suggest booking in your bike for this level of work around 3-4 times a year at regular intervals, or a week or so prior to an anticipated ride.


•Wipe Down
• Tune gears
• Lube chain
• Brake alignment
• Frame wear check - We'll visually inspect your bike for any damage, wear and tear and report accordingly
• Nut and bolt safety check - Tighten/re-torque and regrease all bolts and axles
• Headset check and reset accordingly
• Tyre pressure check and inflation
• Drivetrain wear check/chain check - report/replace accordingly
• Tyre wear and damage check - report/replace accordingly
• Brake pad and rotor check - report/replace accordingly

Flashpacker

$200 + parts:

If it has been some time between servicing, a little more than a simple tune up may be needed. We suggest this level of work is completed 1-2 times a year to keep you bike running reliably, especially if you are about to embark on a multi-day cycling adventure.

All of Day tripper jobs plus…

• Tyre sealant check and top up (tyres still mounted)

• Drop out fork for a headset clean, regrease and reinstall
Bikepacker

$330 + parts:

The additional tasks completed in this level of service should be done every 18-24 months. More frequently if you ride in wet and gritty conditions as moisture ingress is likely causing some unseen wear and tear to your cranks and wheels

All of Flashpacking jobs plus…

• Crank removal, clean, regrease and reinstall

• Wheel true F&R with a drop of lubricant per nipple
Overlander

$450 + parts:

This level of service leaves no part untouched. It's basically like being handed back a new bike and you should treat yourself (and your bike) to this level of attention every 24-36 months. Or before a bucklist ride event where you need 100% certainty that your equipment is running as smooth, efficient and reliably as possible.

All of Bikepacker jobs plus…

• Tyre removal or new tyre installation with fresh doses of tubeless sealant (old sealant cleaned out if reusing used but good tyres), valves to be cleaned and dry sealant removed from threads. Or new valves installed. Fresh rim tape is installed if needed

• Removal and re-installation of bottom bracket and hub ratchet overhaul

•Bike bath
Additional Services

$10 - Sundries - Lubricants, greases, cleaners, solvents etc. -  charge for every job

$150 - Wheel build - flat rate per wheel

$50 - Wheel true and re-tensioning - flat rate per wheel (Spoke and nipple replacement is additional)

$20 - Brake pad installation - flat rate per end

$20 - Cable change - flat rate per cable (gear or brake) 

$40 - Brake bleed - flat rate per end

$40 - Bottom bracket replacement

$30 - Tape bars 

$50 - Fit supplied tyres to new or existing Curve wheels - Road and Gravel 700x25-700x45 (Includes 2 x 40-60ml sealant dose)

$60 - Fit supplied tyres to new or existing Curve wheels - Off-road 27.5 x 2.0-2.35 / 29 x 2.0 - 3.0 (Includes 2 x 80-100ml sealant dose)

$30 - Wheels installation -  New wheels to existing bike (needs to be pre-arranged and not done on the spot.)

$60 - Bike bath

$10 - Shifter battery replacement for SRAM AXS - Price per shifter
Our workshop staff have over 15+ years combined experience. You can contact them directly via:
email - workshop@curvecycling.com
phone - (03) 8375 7066
Alternatively, you can fill out our Workshop Booking Form where you can detail any servicing needs & preferred servicing date so the team can book you in at the nearest available slot.
-
Not in Australia?
For more information on workshop servicing at a stockist closer to you, please visit our stockist page. Each dealer has its own fully operational workshop and can become your ongoing service support location. *Please do check whether our stockists service non-Curve products before booking.*
NOTE: We keep stock on-hand as best we can in this current environment to offer spare parts and upgrades, please be aware that in some cases we may need to offer alternatives from other brands, or it may be essential for you to personally order and supply spare parts for us to fit. The most affected consumable parts from supply-chain restrictions are chains, cassettes, brake rotors and brake pads.