Regular price
$13,618.00 USD
Regular price
$0.00 USD
Sale price
$13,618.00 USD
Unit price
per
Sale
Contact Us for Info
Customers outside Australia are liable for import fees which can add 15% for EU and UK shipments (compared to Australian RRP).
Share
Geometry

Click to zoom into the geo chart.
Shipping

Free International Shipping for all Framesets, Complete Bikes, Forks, Wheelsets, Bars and Rocket Pooches is included in the sales price (*excludes Belgie DISC Ultegra)




All other products are subject to shipping charges calculated at checkout. See our Shipping Policy for further details.
FAQs

Check HERE for further info regarding custom paint, bike set up and more.

| | |
| --- | --- |
| Why the carbon seat tube? | It sheds weight and adds stiffness to the bottom bracket area, resulting in the responsive ride quality expected from a high-end gravel race frame. |
| Can I use SRAM Transmission? | Yes. We've redesigned our CNC-machined UDH dropout to be fully SRAM T-Type compatible. |
| Can I use any groupset? | No. This frame is only compatible with fully wireless groupsets (eg SRAM AXS) |
| What's the biggest tyre size I can fit? | The frameset is optimised for 700c x 45mm tyres, but you will be able to fit up to 700c x 50mm tyres in the frame. The fork can take up to 29 x 2.4" tyres. |
| Can I mount a rack? | Since this is a gravel race bike, we have removed all extraneous mounting points on both the frame and the fork. AIR Kev is compatible with a Tailfin rack using their universal axle. |
View full details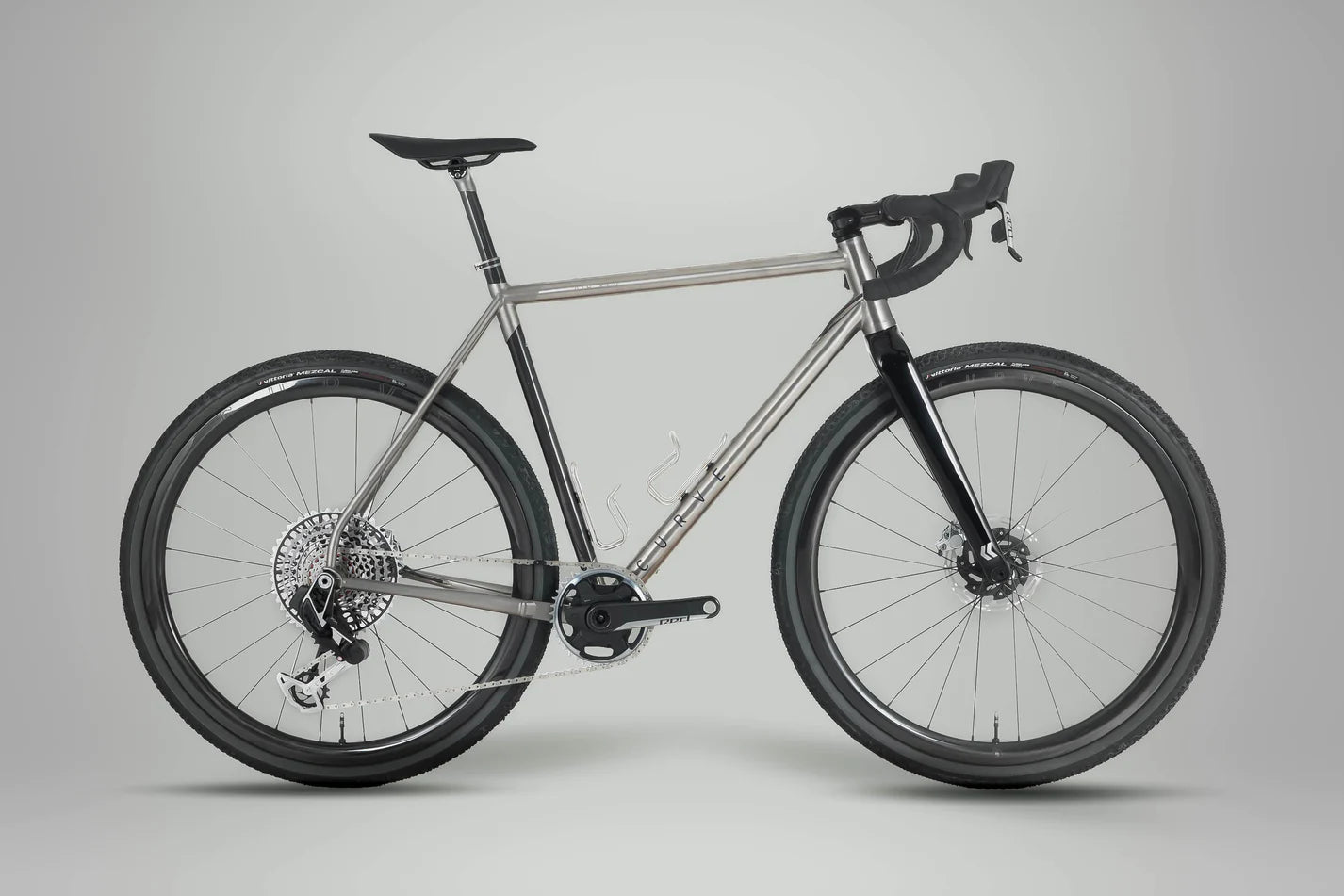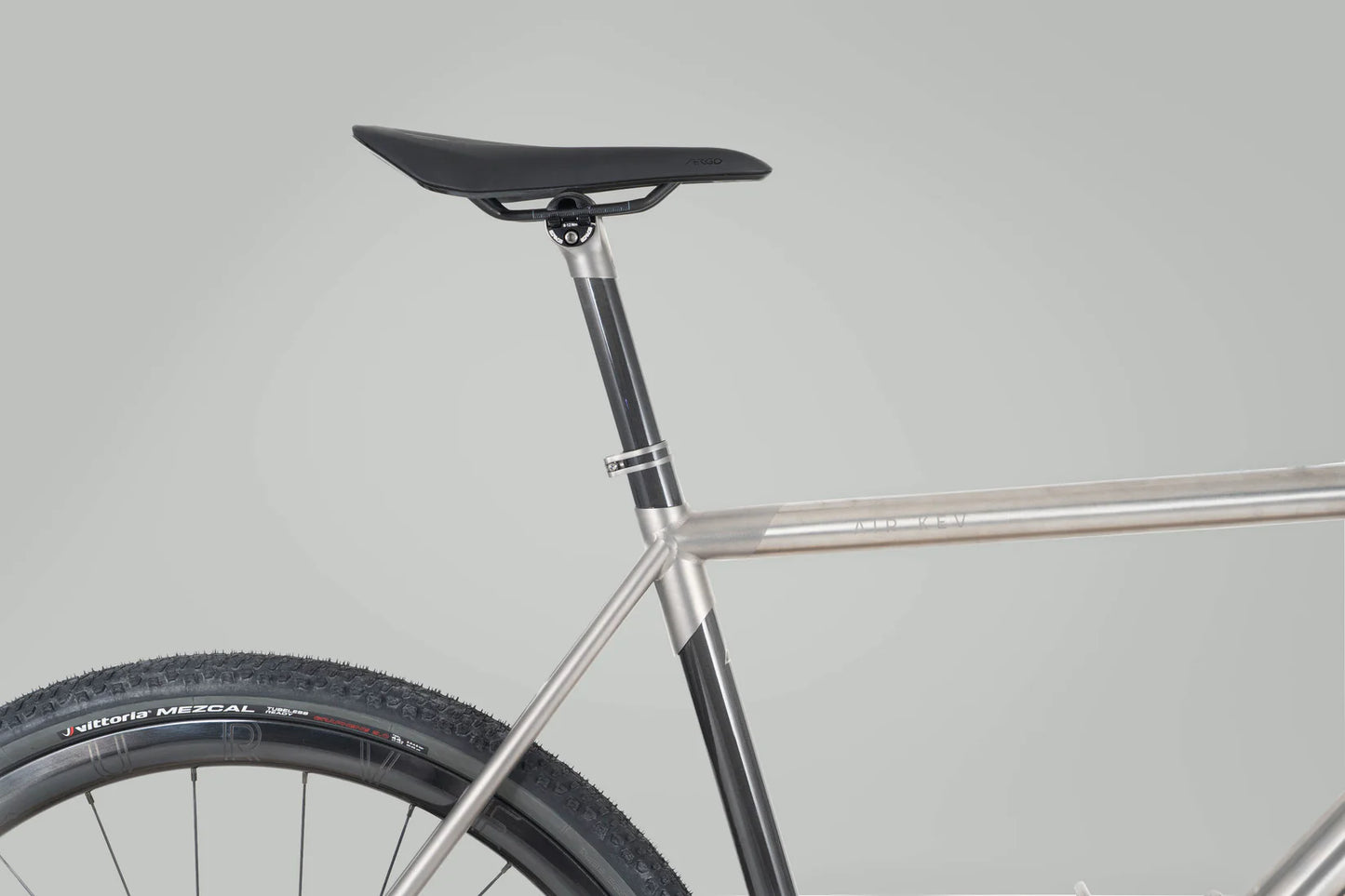 Our Fastest Kev Yet
Introducing AIR Kev, the gravel-race version of our beloved GXR (aka Kevin). This is Curve's tribute to a trail-blazing hero, our most popular model; a revolutionary bike in the burgeoning modern gravel scene. AIR Kev was originally a project for the 2023 Handmade Bike Show Australia, but it quickly won the hearts of gravel fans across the globe, so we decided to bring it to life.
Custom Carbon Bonded Seat Tube

AIR Kev combines the best qualities of carbon and titanium to create a new standard for gravel riding in the Curve range.

The carbon seat tube is not just a striking design feature, it shaves grams and results in the stiff and responsive ride quality expected from a top-end race-oriented frame. The carbon seat tube is bonded to the bottom bracket shell with a super strong double-lap join. A tight tolerance 3D-printed titanium lug, and a carefully selected aerospace adhesive, makes this possible.

Our 3D-printed parts include sub-millimeter bond-gap control features. While such fine details are invisible on our finished frames, they result in class leading bond strengths.

Complete AIR Kev builds are finished with Curve's new carbon seat post with a custom 3D-printed titanium topper. This post weighs a respectable 190g without compromising performance.

The combination of a custom carbon seat tube, a carbon/3D-printed titanium seat post, and a 3D-printed seat clamp reduce the weight of the same standard Ti GXR package by approximately 250g.*

*The standard package consists of a stock titanium GXR frame, alloy 31.8mm seat clamp and 27.2mm titanium seatpost. A size LG frame is used in this comparison. This seat post is exclusive to the AIR Kev and not available as a separate product.

A Sleek Gravel Race Bike

The AIR Kev frame features internal routing via the downtube, bottom bracket and full-length non-drive side chainstay. The brake hose has an uninterrupted path from front to rear for clean RH-rear or LH-rear brake controls. It is held in place by an unsung hero, a 3D-printed titanium cable guide hidden inside the bottom bracket shell, which secures the hose snugly without bottom bracket cup or crank spindle interference.

A single-sided yoke remains together with the curved seatstay to retain the iconic side-on silhouette of the original Curve GXR.

AIR Kev features a stripped-down version of our Ride 415 fork, dubbed the Race 415 fork, with internal brake hose routing and without M5 cargo mounts.

Elements of Australian Manufacturing

All AIR Kev frames are bonded and finished by Curve in Melbourne, Australia. AIR artwork, painting and cosmetic finishing are completed by hand within Curve's new paint facility using high-end automotive products. This is part of Curve's mission to establish elements of our manufacturing process in Australia where we can control, develop and refine new processes in-house.

Fabrication of the titanium frame, carbon tubes and 3D-printed titanium elements remains with our trusted and established partners in China.

Race or Party Mode

While the AIR Kev is built to go fast, all Kevs are ready to party on chunkier gravel. The AIR Kev frame and Race 415 fork can accommodate a maximum tyre clearance of 700c x 50mm, and even wider up front, giving you plenty of options for all-terrain adventures. AIR Kev is also compatible with 650b wheelsets if you want to venture further off the beaten track.

The rear dropouts are fully SRAM UDH/T-Type compatible, for the ultimate wide gear range builds. The flat-mount brake tab is positioned for a 160mm rotor without the need for an adapter.

Travel in Comfort

The backbone of each AIR Kev frameset is a 3Al - 2.5V Grade 9 Aerospace grade titanium tube set. This grade is optimal for bicycle frames and was chosen for its balance of stiffness, compliance, and durability. Titanium absorbs road noise without compromising on performance. It's smooth as silk and very compliant, so you can spend more time on the bike without feeling battered and bruised after a long ride, especially on rough gravel roads.

AIR Kev combines the comfort and durability of titanium with the stiffness of carbon, to give you a responsive high-end gravel race bike with comfort where it counts.

Lightweight Hill Crushers

This AIR Kev complete build features our newest G4T option, the super lightweight hookless hill crusher wheelset. The 25 mm depth profile keeps the weight low while the 22 mm internal width allows a large cross-section of road/all-road/gravel race tyres to be fitted and set up tubeless for a true "riding on a cloud" experience. Configured using the top-tier DT Swiss 180 ceramic EXP hubs and Sapim Super Spokes, this stunning wheelset is finished with robust Sapim brass nipples to create an ultralight yet reliable wheelset. These wheels tip the scales at a feathery 1,158g (taped, with valves and valve caps).

Walmer Bar Carbon

The Walmer Bar was designed to handle the demands of endurance cycling of all types, from long-distance audax events and rugged gravel cycling, to off-road bikepacking across continents. Wider than most, and with comfortable flared drop, the Walmer Bar comes in carbon and aluminium versions.

The Walmer Bar Carbon improves on the original aluminium version by cutting down weight, neatly tucking away cables in a moulded recess, and improving handling. The ovalised tops offer additional comfort and the carefully designed profile balances stiffness and flex, providing some extra vibration damping on rugged terrain.

The Walmer Bar Carbon has been tested beyond the ISO 4210 standard for XC MTB use, with EFBEs proprietary TRI-TEST®.
AIR Kev Specifications
Frameset

Frame - Titanium Curve AIR Kev

Fork - Curve Race 415

Headset - Curve Integrated 42/52 mm (IS42/28.6 | IS52/40)

Seat Clamp - 3D-printed titanium, 31.8 mm

Seat Post - Standard-sized 27.2 mm carbon seat post bonded to a custom 3D-printed titanium topper (0 or 20 mm setback) | ENVE 2-bolt seatpost hardware kit

Other - Front & Rear Relaxle Thru-Axles (12x100mm & 12x142mm)
Custom 3D-printed titanium internal BB cable guide
2 x SRAM UDH hangers
Groupset Options

SRAM Red Eagle AXS XX SL T-Type 12 sp

Shifter/Levers - RED AXS, 12 sp - LHR / RHF

Brakes - RED AXS HRD Flat Mount Disc // CLX R CL Rotors, 160 mm

Crank - RED 1 - 40t | XXS-SM: 165 mm | MD: 170 mm | LG-XXL: 175 mm. Note the photographed build includes a power meter upgrade, not specified here. Contact us to discuss modifications.

Bottom Bracket - SRAM DUB T47 85.5 ROAD

Rear Derailleur - Eagle AXS XX SL T-Type, 12 sp

Cassette - XX SL Eagle Transmission, 10-52t, 12 sp

Chain - XX SL Eagle Transmission Flattop, 12 sp
Wheels

Curve G4T 25 mm - 700C

Carbon All-Road Wheels:

- 22 mm internal, 27 mm external, 25 mm deep

- Hub: DT Swiss 180, 24H, Centre Lock

- Spokes & Nipples: Sapim Super Spokes & Brass Secure-lock Nipples

- Dropout Spacing: 12 x 100 mm front, 12 x 148 mm rear

- Weight: 1,158 g (taped, with valves and valve caps)
Finishing Kit

Bars - Curve WALMER Bar Carbon | XXS: 43 cm | XS-MD: 46 cm | L-XXL: 50 cm

Stem - Zipp Speed SL

Saddle - Fi'zi:k Vento Argo

Tyres - Vittoria Mezcal 700 x 44c

Bar Tape - Curve black anti-shock

Please Note: Spec subject to change according to availability